Hello everyone!
Another month gone so quickly – I can't believe how fast the year is going.
Small update for school: I only have about 2 weeks of sit in classes left and will be heading to one of my final practicums by the end of March – which I'm so excited about. Soon I'll be done my program and be working as a nurse! I cannot wait.
Anyways, this post is going to be my February Wrap Up!
This month has been a pretty great reading month – I was able to read 8 books this month, which is amazing for me. Especially with how busy I've been this month!
I'm just going to jump right into the wrap up now!
---
STATS
BOOKS READ: 8 books
PAGES READ: 3763 Pages
RATINGS:
⭐ ⭐ : Tyler Johnson Was Here by Jay Coles
⭐ ⭐ ⭐ : Siege and Storm by Leigh Bardugo, Time Bomb by Joelle Charbonneau
⭐ ⭐ ⭐ ⭐ : Godsgrave by Jay Kristoff and Scythe by Neal Shusterman
⭐ ⭐ ⭐ ⭐ ⭐ : Red Rising by Pierce Brown and Sleeping Giants by Sylvain Neuvel
BOOKS READ FROM TBR: 3/5 (Didn't read The Defiant by Leslie Livingston and Poison Study by Maria V. Snyder)
Coming Reviews: Red Rising by Pierce Brown and Sleeping Giants by Sylvain Neuvel
---
⭐ ⭐
---
Goodreads Rating: 4.12/5

Pages: 304 Pages
Published: March 20th, 2018
Publisher: Little, Brown Books for Young Readers
Genre: Contemporary and YA
Plot:
When Marvin Johnson's twin, Tyler, goes to a party, Marvin decides to tag along to keep an eye on his brother. But what starts as harmless fun turns into a shooting, followed by a police raid.
The next day, Tyler has gone missing, and it's up to Marvin to find him. But when Tyler is found dead, a video leaked online tells an even more chilling story: Tyler has been shot and killed by a police officer. Terrified as his mother unravels and mourning a brother who is now a hashtag, Marvin must learn what justice and freedom really mean.
---
⭐ ⭐ ⭐
---
Goodreads Rating: 4.08/5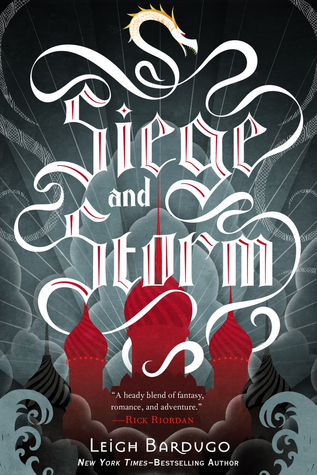 Pages: 435 Pages
Published: June 4th, 2013
Publisher: Henry Holt and Company
Genre: YA, Romance, and Fantasy
Plot: (Plot from Book 1)
Surrounded by enemies, the once-great nation of Ravka has been torn in two by the Shadow Fold, a swath of near impenetrable darkness crawling with monsters who feast on human flesh. Now its fate may rest on the shoulders of one lonely refugee.
Alina Starkov has never been good at anything. But when her regiment is attacked on the Fold and her best friend is brutally injured, Alina reveals a dormant power that saves his life—a power that could be the key to setting her war-ravaged country free. Wrenched from everything she knows, Alina is whisked away to the royal court to be trained as a member of the Grisha, the magical elite led by the mysterious Darkling.
Yet nothing in this lavish world is what it seems. With darkness looming and an entire kingdom depending on her untamed power, Alina will have to confront the secrets of the Grisha . . . and the secrets of her heart
---
Goodreads Rating: 3.96/5

Pages: 352 Pages
Published: March 13th, 2018
Publisher: HMH Books for Young Readers
Genre: YA, Contemporary, Suspense, and Thriller
Plot:
A congressman's daughter who has to be perfect. A star quarterback with a secret. A guy who's tired of being ignored. A clarinet player who's done trying to fit in. An orphaned rebel who wants to teach someone a lesson. A guy who wants people to see him, not his religion.
They couldn't be more different, but before the morning's over, they'll all be trapped in a school that's been rocked by a bombing. When they hear that someone inside is the bomber, they'll also be looking to one another for answers.
---
⭐ ⭐ ⭐ ⭐
---
Goodreads Rating: 4.59/5

Pages: 448 Pages
Published: September 5th, 2017
Publisher: Thomas Dunne Books
Genre: Fantasy and YA
Plot: (Plot for Book 1)
In a land where three suns almost never set, a fledgling killer joins a school of assassins, seeking vengeance against the powers who destroyed her family.
Daughter of an executed traitor, Mia Corvere is barely able to escape her father's failed rebellion with her life. Alone and friendless, she hides in a city built from the bones of a dead god, hunted by the Senate and her father's former comrades. But her gift for speaking with the shadows leads her to the door of a retired killer, and a future she never imagined.
Now, Mia is apprenticed to the deadliest flock of assassins in the entire Republic—the Red Church. If she bests her fellow students in contests of steel, poison and the subtle arts, she'll be inducted among the Blades of the Lady of Blessed Murder, and one step closer to the vengeance she desires. But a killer is loose within the Church's halls, the bloody secrets of Mia's past return to haunt her, and a plot to bring down the entire congregation is unfolding in the shadows she so loves.
Will she even survive to initiation, let alone have her revenge?
---
Goodreads Rating: 4.33/5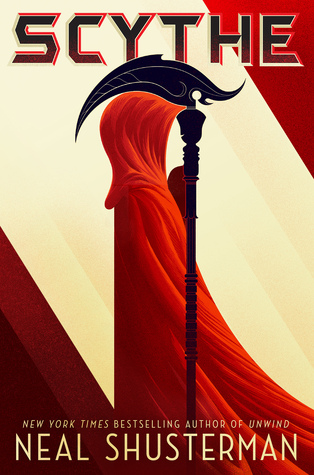 Pages: 435 Pages
Published: November 22nd, 2016
Publisher: Simon Schuster Books for Young Readers
Genre: YA and Science Fiction
Plot:
Thou shalt kill.
A world with no hunger, no disease, no war, no misery. Humanity has conquered all those things, and has even conquered death. Now scythes are the only ones who can end life—and they are commanded to do so, in order to keep the size of the population under control.
Citra and Rowan are chosen to apprentice to a scythe—a role that neither wants. These teens must master the "art" of taking life, knowing that the consequence of failure could mean losing their own
---
⭐ ⭐ ⭐ ⭐ ⭐
---
Red Rising by Pierce Brown
Goodreads Rating: 4.26/5

Pages: 382 Pages
Published: January 28th, 2014
Publisher: Del Rey
Genre: Science Fiction, YA, and Fantasy
Plot:
Darrow is a Red, a member of the lowest caste in the color-coded society of the future. Like his fellow Reds, he works all day, believing that he and his people are making the surface of Mars livable for future generations.
Yet he spends his life willingly, knowing that his blood and sweat will one day result in a better world for his children.
But Darrow and his kind have been betrayed. Soon he discovers that humanity already reached the surface generations ago. Vast cities and sprawling parks spread across the planet. Darrow—and Reds like him—are nothing more than slaves to a decadent ruling class.
Inspired by a longing for justice, and driven by the memory of lost love, Darrow sacrifices everything to infiltrate the legendary Institute, a proving ground for the dominant Gold caste, where the next generation of humanity's overlords struggle for power. He will be forced to compete for his life and the very future of civilization against the best and most brutal of Society's ruling class. There, he will stop at nothing to bring down his enemies… even if it means he has to become one of them to do so.
---
Sleeping Giants by Sylvain Neuvel
Goodreads Rating: 3.84/5

Pages: 320 Pages
Published: April 26th, 2016
Publisher: Del Rey
Genre: Science Fiction and Fantasy
Plot:
A girl named Rose is riding her new bike near her home in Deadwood, South Dakota, when she falls through the earth. She wakes up at the bottom of a square hole, its walls glowing with intricate carvings. But the firemen who come to save her peer down upon something even stranger: a little girl in the palm of a giant metal hand.
Seventeen years later, the mystery of the bizarre artifact remains unsolved—its origins, architects, and purpose unknown. Its carbon dating defies belief; military reports are redacted; theories are floated, then rejected.
But some can never stop searching for answers.
Rose Franklin is now a highly trained physicist leading a top secret team to crack the hand's code. And along with her colleagues, she is being interviewed by a nameless interrogator whose power and purview are as enigmatic as the provenance of the relic. What's clear is that Rose and her compatriots are on the edge of unraveling history's most perplexing discovery—and figuring out what it portends for humanity. But once the pieces of the puzzle are in place, will the result prove to be an instrument of lasting peace or a weapon of mass destruction?
---
Alright everyone! That concludes my February Wrap Up!
Again, I'm so happy with the reading I was able to do this month. It was an incredible reading month and I loved a lot of the books I managed to read!
Thank you so much for reading and don't forget to follow my blog as well as my other social media sites!
Until next time,
Rimpy Toor