Hey everyone! 
I have another book review for you all!
This one is going to be for Scythe by Neal Shusterman – this is one that I'm sure all of you have already heard about, especially with the new release of the sequel – Thunderhead. 
Let's jump right into the review!
---
Goodreads Rating: 4.33/5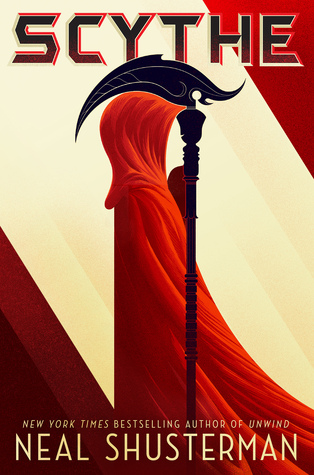 Pages: 435 Pages
Published: November 22nd, 2016
Publisher: Simon Schuster Books for Young Readers
Genre: Young Adult and Science Fiction
Plot:
Thou shalt kill.
A world with no hunger, no disease, no war, no misery. Humanity has conquered all those things, and has even conquered death. Now scythes are the only ones who can end life—and they are commanded to do so, in order to keep the size of the population under control.
Citra and Rowan are chosen to apprentice to a scythe—a role that neither wants. These teens must master the "art" of taking life, knowing that the consequence of failure could mean losing their own.
---
⭐ ⭐ ⭐ ⭐
---
My Thoughts
This novel was one that I found instantly captivating and so hard to put down. I found the world of this novel to be something that was truly unique and well thought out. It was a world that I couldn't have dreamed up on my own. 
This world contained such abstract concepts that – honestly – I could see happening in our society today. Which is truly terrifying. 
The plot itself was such an interesting perspective to follow. In life, killing in general is bad, and everyone (sane) knows this. So it was very interesting to follow characters who were being taught how to kill and how normalized this became throughout the novel. 
I enjoyed reading from both points of view in this novel, and I do think that this definitely helped me read this novel a lot quicker. It was incredibly hard to put this novel down because there were plot twists and turns throughout this novel. 
The characters in this novel were written in such a way that I found myself going back and forth on whether I liked them or not. There was a lot of character development in this novel in such a short period of time, but I think it definitely worked very well for the novel. 
Additionally, I think that the addition of journal entries from different characters in this novel was a great insight into what these characters were thinking and definitely added to their personality and development. 
Lastly, I'd just like to quickly mention the writing in this novel. It was definitely a to the point writing style that Shusterman decided to go with. I thought this writing style definitely worked so well for this novel, especially in scenes where you would see a lot of death – those scenes worked really well with a fast paced writing style. 
All in all, this novel had such an interesting concept and had incredibly plot points that made me constantly intrigued with what was going on with this novel. I think that if you find the concept at all interesting, then you need to pick up this novel. 
---
That concludes my review for Scythe by Neal Shusterman! I hope you all enjoyed!
Thank you so much for reading and don't forget to follow my blog as well as my other social media sites linked in the side bar. 
Until next time,
Rimpy Toor