Hello everyone!
Today I have a review for Us Against You by Fredrik Backman!
I received this novel from Simon & Schuster in exchange for an honest review!
Let's get into it!
---
Release Date: June 5th, 2018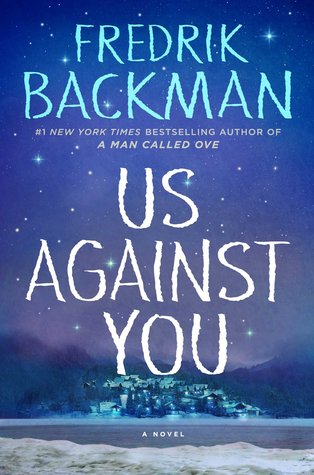 Pages: 448 Pages
Publisher: Atria Books
Plot:
After everything that the citizens of Beartown have gone through, they are struck yet another blow when they hear that their beloved local hockey team will soon be disbanded. What makes it worse is the obvious satisfaction that all the former Beartown players, who now play for a rival team in Hed, take in that fact. Amidst the mounting tension between the two rivals, a surprising newcomer is handpicked to be Beartown's new hockey coach.
Soon a new team starts to take shape around Amat, the fastest player you'll ever see; Benji, the intense lone wolf; and Vidar, a born-to-be-bad troublemaker. But bringing this team together proves to be a challenge as old bonds are broken, new ones are formed, and the enmity with Hed grows more and more acute.
As the big match approaches, the not-so-innocent pranks and incidents between the communities pile up and their mutual contempt grows deeper. By the time the last game is finally played, a resident of Beartown will be dead, and the people of both towns will be forced to wonder if, after all they've been through, the game they love can ever return to something simple and innocent.
---
This novel blew me away.
I cannot explain how much I loved the characters and storytelling in this novel. It was heartwarming and impactful in so many incredible ways.
I have to admit that this novel does have some tough subject matter, so keep that in mind if you're thinking of picking this or Beartown up.
At times it was hard for me to keep up with all the characters POVs that we were following, but Backman made it such an enjoyable experience, I can hardly complain. These characters were not all loveable, but Backman has the ability to ensure you emphasize with a character whether you like them or not.
Benji was an obvious favourite of mine. He was a tragic character that nestled into my heart and never came out. It was really interesting to see his progression throughout this novel. Obviously a lot goes on with him in the entirety of this novel, but for the sake of spoilers I'll stop myself from saying too much. All you should know is that Benji will become a love of yours very easily, and you will have to go through a lot with him in this book.
I always used to be a hockey sister. My brother played hockey his whole life, and seeing as how I was the younger child, I was always dragged along for the ride. That being said, reading these novels made remember all those years living in the hockey bubble. This is another reason that I found myself so drawn to Beartown in the first place, I wanted to see how comparable my life was to this series.
I felt so many emotions throughout this novel. I am not embarrassed to say that I shed a couple (several) tears throughout my read. This novel will pull at all your emotions and just when you're thinking you're safe and ready to move on, it'll start all over again.
It's very hard not to like this novel. Of course there are moments in which you hate characters, but they create an atmosphere that is so addicting to read. The same goes for the plot, I definitely didn't agree with everything that happened, but I know now that it all happened for a reason.
I highly, highly recommend you pick up Beartown if you haven't already. This series will fast become one of your favourites and you will definitely find it hard to put down!
---
That concludes my review for Us Against You by Fredrik Backman!
Don't forget to follow my blog and other social media sites!
Thank you for reading!
Until next time,
Rimpy Toor