Hi everyone! Long time no see.
I have been super busy this month studying for my certification exam, so it has been extremely difficult for me to do anything else.
Fortunately, I found some time to review this ARC that I received from Raincoast Books!
Let's get into it!
---
Release Date: August 7th, 2018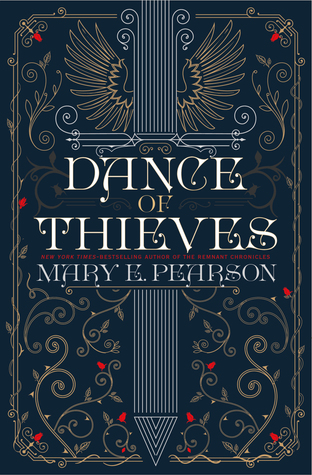 Pages: 508 Pages
Publisher: Henry Holt and Co.
Plot:
When the patriarch of the Ballenger empire dies, his son, Jase, becomes its new leader. Even nearby kingdoms bow to the strength of this outlaw family, who have always governed by their own rules. But a new era looms on the horizon, set in motion by a young queen, which makes her the target of the dynasty's resentment and anger.
At the same time, Kazi, a legendary former street thief, is sent by the queen to investigate transgressions against the new settlements. When Kazi arrives in the forbidding land of the Ballengers, she learns that there is more to Jase than she thought. As unexpected events spiral out of their control, bringing them intimately together, they continue to play a cat and mouse game of false moves and motives in order to fulfill their own secret missions.
---
I had just recently finished reading the Remnant Chronicles, and I am so excited to say that I loved this novel just as much as I loved the Remnant Chronicles!
One thing that really stood out to me from this novel was all of the amazing characters. We had so many incredible female characters that were strong and inspiring and so very fun to read about. Jase and the Ballengers were also so precious.
Romance is something that I was very excited to see, especially with the way that Many E. Pearson wrote the Remnant Chronicles. I loved every matching in this novel, especially Kazi and Jase! These two characters had a relationship that wasn't always perfect, but it was so incredibly fun to read about. Their romance made me very reminiscent of Lia, Rafe and the rest of the cast in The Remnant Chronicles!
This novel flew by for me, I read it in just a couple sittings and I never found myself wanting to put this story down. There was always something new that I was learning about this world and it was incredibly fun to see some familiar faces from The Remnant Chronicles again. I definitely got the closure I was looking for from The Remnant Chronicles when I read this novel.
---
That concludes my review for Dance of Thieves by Mary E. Pearson.
Thank you so much for reading and don't forget to follow my blog as well as my other social media sites!
Until next time,
Rimpy Toor