Hey everyone!
I'm back with another book review, this time it's for Undead Girl Gang by Lily Anderson!
I was lucky enough to receive this novel from Penguin Random House in return for an honest review.
Alright, let's jump into it!
---
Goodreads Rating: 3.91/5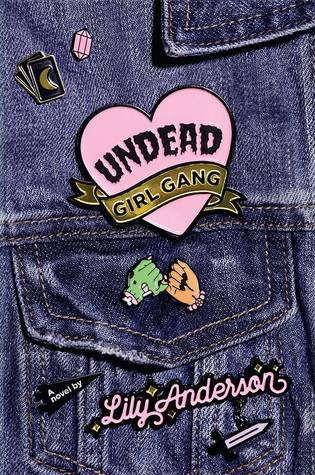 Pages: 305 Pages
Publisher: Razorbill
Published: May 8th, 2018
Genre: YA, Fantasy, and Mystery
Plot:
Mila Flores and her best friend Riley have always been inseparable. There's not much excitement in their small town of Cross Creek, so Mila and Riley make their own fun, devoting most of their time to Riley's favorite activity: amateur witchcraft.
So when Riley and two Fairmont Academy mean girls die under suspicious circumstances, Mila refuses to believe everyone's explanation that her BFF was involved in a suicide pact. Instead, armed with a tube of lip gloss and an ancient grimoire, Mila does the unthinkable to uncover the truth: she brings the girls back to life.
Unfortunately, Riley, June, and Dayton have no recollection of their murders, but they do have unfinished business to attend to. Now, with only seven days until the spell wears off and the girls return to their graves, Mila must wrangle the distracted group of undead teens and work fast to discover their murderer…before the killer strikes again.
---
⭐ ⭐ ⭐ 
---
This novel is one that I was unsure of whether I would enjoy. Usually YA mystery novels never really satisfy me the way that adult mysteries do, but this novel was truly amazing.
It was filled with grief, friendship, overcoming issues and so much more. I loved how throughout this novel we got to see out main character go through tremendous character growth. It was truly an adventure from start to finish and instead of looking forward to the end and finding out the secrets of the mystery, I got to enjoy the process of reading and enjoying the novel, which was a pleasure.
There were so many emotions that this novel encapsulated, including: humour, sadness, happiness, and so many more. Throughout this novel you get to go through emotions that all the main characters are going through, which just makes the novel even more relatable.
The sadness in this novel revolves around the endless death that is featured in this novel. It was incredibly heart breaking to see Mila's grief and how strongly she felt it. Additionally, she had the important duty to ensure everyone knew these girls didn't die of their own volition.
This novel also featured so many amazing diverse characters, including: Latinx, black, as well as fat rep! It was fascinating to read about a plus sized protagonist and the positivity in this novel was amazing.
All in all, this novel was an incredibly fun and interesting read. I found myself thoroughly intrigued to find out what was going to happen next. The characters were also incredibly easy to love and enjoy.
---
That concludes my review for Undead Girl Gang by Lily Anderson.
Thank you so much for reading and don't forget to follow my blog as well as my other social media sites.
Until next time,
Rimpy Toor