Hello everyone!
Welcome to my Mid-Year Book Freakout Tag!
This is a tag that goes over the books that I've read so far for the year and allows me to share my stats and well as answer some questions about the books I've read so far!
I'm going to quite babbling because I think this is going to be a pretty large post, so let's jump into it!
---
Books I've Read So Far…
(Top = Latest, Bottom = Oldest)
---
Stats
---
Questions
1.Best book you've read so far in 2018?
The best book I've read this year has to be a tie between The Way of Kings and Words of Radiance by Brandon Sanderson. Despite being such large novels and tiring reads, I enjoyed the novels immensely. They were so interesting and captured my attention from start to finish.
I highly recommend everyone attempts to read these novels as soon as possible.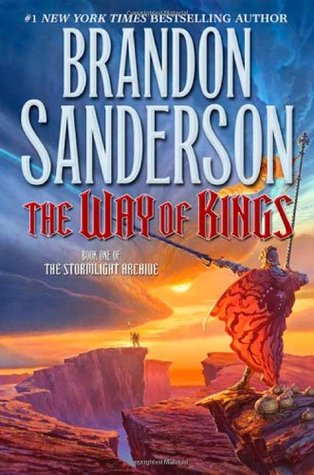 2. Best sequel you've read so far in 2018?
Looks like I spoke too soon with the previous question. See above for Words of Radiance by Brandon Sanderson.
3. New release you haven't read yet, but want to?
Neverworld Wake by Marisha Pessl is a novel that I've purchased and wanted to pick up ever since. I'm hoping that I'll be able to read in the next month or two, I can definitely say that I'll enjoy reading it from my quick look at the summary!
4. Most anticipated release for the second half of 2018?
My most anticipated release for the rest of 2018 has to be Kingdom of Ash by Sarah J. Maas. This novel is one that I am so excited for because it's the last of the Throne of Glass series and I'm excited to see how everything is wrapped up in the concluding novel.
I'd add a picture here, but there hasn't been a cover release yet, which is another thing I'm ecstatic to see!
5. Biggest disappointment?
The biggest disappointment for me so far this year has been The House Swap by Rebecca Fleet. This novel was one that I anticipated being incredibly interesting and intriguing. Unfortunately, I found this novel to be an incredible bore and very uninteresting. Do not recommend.
6. Biggest surprise?
The biggest surprise for me this year was Red Rising by Pierce Brown. This novel is one that I'd heard here and there over the years, but hadn't shown much interest in it until this year. I have to say though, once I read and finished it, this became one of my favourite reads of this year and forever. It is a great read and I'm so glad that I managed to read it!
7. Favourite new author?
I have a couple new favourite authors that I have encountered this year. Those include: Holly Black, Brandon Sanderson, Pierce Brown and Tomi Adeyemi. I have read so many new authors this year and these four have been some amazing additions to my favourites shelf.
8. Newest fictional crush?
Kaladin.
My child. I love him.
9. Newest favourite character?
Zera from Bring Me Their Hearts by Sara Wolf. I have a couple from other novels that I have already mentioned above, but this novel is one that I've read recently and loved. Zera was a fearless and strong female character and I couldn't be more excited to see what comes next for her!
10. Book that made you cry?
The Seven Husbands of Evelyn Hugo by Taylor Jenkins Reid was a book that was truly heartbreaking and fascinating at the same time. I read this upon impulse and I loved it so very much. This novel will tear your heart out and stomp on it on moment and then warm is immensely the other.
11. Book that made you happy?
The Last Black Unicorn by Tiffany Haddish was an incredible memoir that I had the delight to read this year. It was funny, inspiring and shocking all at the same time. I highly recommend you all pick this novel up as soon as possible!
12. Favourite book to movie adaptation you saw this year?
I haven't seen any book to movie adaptations so far, but a book to television adaptation that I just started is The Handmaid's Tale by Margaret Atwood. This show is so freakishly weird and horrifying. I love how atmospheric this show is and how well it is able to captivate the viewer. Personally, I haven't read the book yet, and yes I know that's a huge no no, but after watching a couple episodes of the show I definitely want to pick the novel up!
13. Favourite review you've written this year?
My favourite review has to be for The Bird and the Blade by Megan Bannen. I feel like it definitely shows my shock from the novel and my intense feelings. I definitely think that this review is one that is totally honest and I'm proud to have written it!
14. Most beautiful book you bought so far this year?
I didn't buy it but the most gorgeous book I've received this year was The Name of the Wind by Patrick Rothfuss. The special edition is incredibly beautiful and I am so happy that my wonderful boyfriend gifted it to me.
15. What books do you need to read by the end of the year? 
Oh god, all of them?
Morning Star and Iron Gold by Pierce Brown
Oathbringer by Brandon Sanderson
Grey Sister by Mark Lawrence
Lifel1k3 by Jay Kristoff
Etc, Etc.
---
That concludes my Mid-Year Book Freakout Tag!
Thank you all so much for reading and don't forget to follow my blog as well as my other social media sites.
Until next time,
Rimpy Toor