Hey everyone!
This review is one that I have been meaning to write for a little while now and I'm finally sitting down and getting it done. 1 point for me.
I'm just going to jump right into the review because there is a lot I'd like to discuss!
Thank you so much to Raincoast Books (my favs) for providing me with an ARC of this novel in return for an honest review!
Alright, let's do it!
---
Goodreads Rating: 4.27/5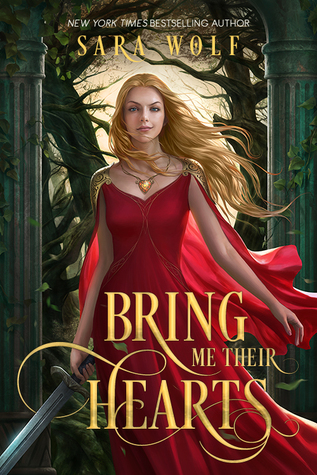 Pages: 400 Pages
Publisher: Entangled Teen
Published: June 5th, 2018
Genre: YA, Fantasy, and Romance
Plot:
Zera is a Heartless – the immortal, unageing soldier of a witch. Bound to the witch Nightsinger ever since she saved her from the bandits who murdered her family, Zera longs for freedom from the woods they hide in. With her heart in a jar under Nightsinger's control, she serves the witch unquestioningly.
Until Nightsinger asks Zera for a Prince's heart in exchange for her own, with one addendum; if she's discovered infiltrating the court, Nightsinger will destroy her heart rather than see her tortured by the witch-hating nobles.
Crown Prince Lucien d'Malvane hates the royal court as much as it loves him – every tutor too afraid to correct him and every girl jockeying for a place at his darkly handsome side. No one can challenge him – until the arrival of Lady Zera. She's inelegant, smart-mouthed, carefree, and out for his blood. The Prince's honor has him quickly aiming for her throat.
So begins a game of cat and mouse between a girl with nothing to lose and a boy who has it all.
Winner takes the loser's heart.
Literally
---
⭐ ⭐ ⭐ ⭐ ⭐
---
This was an incredible bucket of sass, female power, and intense witchery.
I enjoyed everything about this book. It was something that I knew I would love from the moment I picked it up and continued to love throughout.
This novel has a concept that I really haven't seen before. The idea of someone being controlled due to their heart being "taken" is something right down my alley and I'm really glad that I finally managed to finish this novel, except now I'm just really dying to read the next one.
There are many reasons I loved this novel.
The heart aspect of this novel definitely reminded me of dark fairy tales where the evil queen asks for a heart, who knows what she wants to do with it. In this novel we actually get to see the witch and their slaves interact and live in close quarters to each other!
First, the main character. When you hear about strong female protagonists, this is a character that I hope comes to everyone's minds.
Zera is a monster in her mind, but to me she is just a smart-mouthed girl who literally doesn't take shit from anybody, including a prince. I found so many scenarios in which Zera was so crass and sassy which made me laugh and like her more and more. It was fascinating to see Zera use her own personality and change the way that the royals saw her, especially after receiving so much "necessary" training to do the opposite.
Also, I loved Prince Lucien's sassy bodyguard. His name is escaping me right now, but I promise you that he will steal your heart and keep it for the entirety of the novel.
There were also awesome elements of world building in this novel that I found so interesting. Learning about previous wars and how the witches and heartless fared in the past was a history lesson I was so pleased to receive.
There was so much action and fighting in this novel, and it really drew me in. I loved seeing Zera show so much strength and being able to hold her own, but it was also great to see that she was human and not perfect.
Additionally, I loved how seamlessly Sara Wolf was able to include characters of different species without it making the book feel absolutely out of this world and silly. We got to read about several different species and how their worlds work and it just added to the world that we were learning about in absolutely the best way possible.
One thing that I found to be a bit annoying was how easily the romance came to fruition. I was anticipating a bit more push and pull, such as in The Cruel Prince, but unfortunately we didn't get that.
I'm hoping that the next novel gives me the drama I'm looking for, especially in the romance department.
All in all, this novel was one that I'm so thankful I had the opportunity to receive and read. I don't know if I would have picked it up on my own if I had seen it in the store, but I do know that if I see the sequel in stores I'll be first in line to purchase it.
I highly recommend that everyone read this novel if you're a fan of YA Fantasy novels. It's something that you're sure to fall in love with and you won't regret spending your time on.
---
Alright, that concludes my review for Bring Me Their Hearts by Sara Wolf!
Thank you so much for reading and don't forget to follow my blog as well as my other social media sites!
Until next time,
Rimpy Toor