Hey everyone!
Today I have my post for the Furyborn Blog Tour by Raincoast books! This novel is one that I was so very excited to receive an ARC for because it honestly looked so amazing and full of magic, action, and badass females. Thankfully, I was right to assume those things about it.
Be sure to read all the way until the end to see my question for Claire Legrand!
I received this ARC in return for an honest review from Raincoast Books.
Let's get into it!
---
Release Date: May 22nd, 2018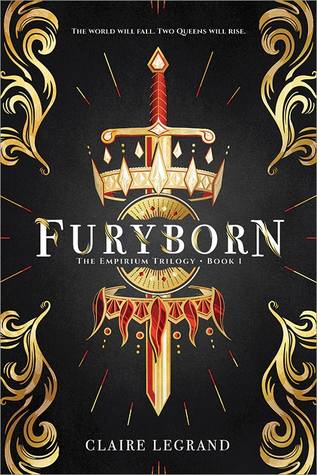 Pages: 512 Pages
Publisher: Sourcebooks Fire
Genre: Fantasy and YA
Plot:
When assassins ambush her best friend, the crown prince, Rielle Dardenne risks everything to save him, exposing her ability to perform all seven kinds of elemental magic. The only people who should possess this extraordinary power are a pair of prophesied queens: a queen of light and salvation and a queen of blood and destruction. To prove she is the Sun Queen, Rielle must endure seven trials to test her magic. If she fails, she will be executed…unless the trials kill her first.
A thousand years later, the legend of Queen Rielle is a mere fairy tale to bounty hunter Eliana Ferracora. When the Undying Empire conquered her kingdom, she embraced violence to keep her family alive. Now, she believes herself untouchable–until her mother vanishes without a trace, along with countless other women in their city. To find her, Eliana joins a rebel captain on a dangerous mission and discovers that the evil at the heart of the empire is more terrible than she ever imagined.
As Rielle and Eliana fight in a cosmic war that spans millennia, their stories intersect, and the shocking connections between them ultimately determine the fate of their world–and of each other.
---
⭐ ⭐ ⭐ ⭐ ⭐
---
This novel was a fantasy novel that I hadn't heard anything about until I received an ARC for it. Once I read the plot, I was hooked.
The premise of this novel was so unique and interesting, and I am happy to state that the Claire Legrand did not disappoint with the follow through of this novel.
The one thing that I thoroughly loved about this novel's structure was the way the POV changed each chapter. Additionally, the chapters weren't super long and didn't have unnecessary fillers, which made this 500+ novel feel like nothing to me. I got through this novel so quickly and EASILY once I got into it, and it was honestly such an enjoyable experience.
The POV's of this novel were quite different so it was odd to go back and forth at the beginning, but once you got to know each of these characters, it was a pleasant feeling being able to switch from one character you love to another character you love.
Additionally, there was a significant time difference between the characters, but once you were able to connect with the stories of each character, this time difference didn't effect the reading experience one bit!
There were also amazing relationships between the characters, my favourite being the relationship Eliana had with her brother Remy. It was beautiful to see the commitment she had to ensuring his safety at all times, even if that meant he thought of her as the bad guy.
Both of the main characters, Eliana and Rielle, had their pros and cons, but all in all, they were very likeable characters once you got to know them. Their faults were very human faults and it was hard to blame them for doing what they did once you got to know them.
It was such a joy to see these female characters written to have so much strength and power and independence. Of course they had moments of weakness, but they were always able to compose themselves and take control of the situation they were in. I thoroughly enjoyed reading from such strong females POVs and I'm very excited to read more about their adventures in the next book.
The character development in this novel was incredible. Despite the chapters being short and switching back and forth quite frequently, I was able to connect with all the characters and get a really good understanding of their personality.
I do have to mention that there are some steamy scenes in this novel that do get quite descriptive, so I wouldn't recommend this novel to anyone who is under the age of 15? I don't know what the right age is to read sex scenes, I still get uncomfortable. Just be warned that there are sex scenes!
All in all, this novel was exactly what I thought it would be and exactly what I was hoping for. It had wonderful characters and a very interesting and enthralling plot that was ever growing and changing to ensure the reader was on the edge of their seat. I loved the relationships between characters and I hope that we get to see those grow in future novels!
I definitely recommend this novel to anyone looking for a fun fantasy novel that follows two incredible, strong women! It was a fantastic read.
---
Q + A
Q: I understand that music used to be, and probably still is, a huge part of your life. That being said, when writing do you tend to listen to music? If so, what was your go to playlist for when you were writing Furyborn?
Claire Legrand: Music is indeed still a huge part of my life! In fact, listening to music and curating playlists is integral to my brainstorming process. Whether or not I write to music depends on my mood that day, and on the task at hand. Sometimes I need silence. Other times, I prefer writing to white noise. Still other times, I need music to get me through a scene. While writing, I primarily listen to film scores. My playlist for Furyborn includes music from The Crown, Game of Thrones, The Vikings, Penny Dreadful, 10 Cloverfield Lane, The Hunger Games, and Da Vinci's Demons.
---
That concludes my blog post for Furyborn by Claire Legrand!
Thank you so much for reading and don't forget to follow my blog as well as all of my other social media sites!
Until next time,
Rimpy Toor