Hey everyone!
It's time for another book review!
This time I'll be talking about The Wicked Deep by Shea Ernshaw – a hauntingly sophisticated novel that is reminiscent of Hocus Pocus!
I'd like to thank Simon & Schuster for providing me with a finished copy of this novel in return for an honest review!
---
Goodreads Rating: 3.93/5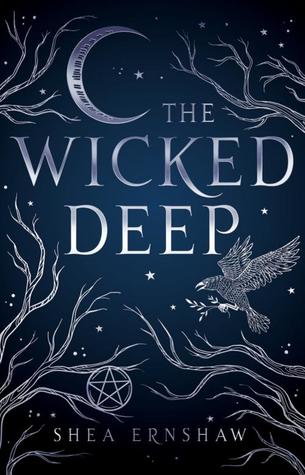 Pages: 308 Pages
Publisher: Simon Pulse
Published: March 6th, 2018
Genre: Fantasy, YA, and Paranormal
Plot:
Welcome to the cursed town of Sparrow…
Where, two centuries ago, three sisters were sentenced to death for witchery. Stones were tied to their ankles and they were drowned in the deep waters surrounding the town.
Now, for a brief time each summer, the sisters return, stealing the bodies of three weak-hearted girls so that they may seek their revenge, luring boys into the harbor and pulling them under.
Like many locals, seventeen-year-old Penny Talbot has accepted the fate of the town. But this year, on the eve of the sisters' return, a boy named Bo Carter arrives; unaware of the danger he has just stumbled into.
Mistrust and lies spread quickly through the salty, rain-soaked streets. The townspeople turn against one another. Penny and Bo suspect each other of hiding secrets. And death comes swiftly to those who cannot resist the call of the sisters.
But only Penny sees what others cannot. And she will be forced to choose: save Bo, or save herself.
---
⭐ ⭐ ⭐
---
This novel was one that I was so excited to pick up because I am a huge fan of Hocus Pocus and I was getting those vibes from this novel.
This novel was kind of similar to that movie, so I really loved that aspect of this novel. However, I was not a fan of a lot of the writing as well as plot in this novel.
I think that overall this novel had a really cool concept and there were a lot of moments in which that I was enjoying the read and excited to see what happened next, but other than those sparse moments, I found this novel to be predictable and a bit dry.
My biggest problem with this novel is how easily I was able to guess what would happen next and how the story would play out. I'm not saying I predicted all of the plot points, but I did predict a majority of them, and that definitely made me not love the novel as much.
Additionally, the character development felt a bit non-existent. I wanted to know more about all of these characters, and I didn't get anything. I did really enjoy the asides about the 3 sisters, but I wanted more character development. Especially about the individuals who ended up being possessed. I would have loved to see snippets from all of their perspectives!
The romance in this story was also very odd. It happened very quickly without much lead up and it just didn't feel genuine enough for me to root for the couple.
I think this novel did do a couple things right, especially the flow. I was able to stay intrigued throughout the novel, which made my reading also go by quickly.
This novel was a fun, haunting, summer read, but it's not something I would recommend for readers who like to have a lot of detail in the novels they read.
All in all, I got through this novel quite quickly, and I enjoyed the process, but it wasn't the absolute best novel that I've read!
---
Alrighty everyone, that concludes my review for The Wicked Deep by Shea Ernshaw! I hope you all enjoyed!
Thank you so much for reading and don't forget to follow my blog as well as my other social media sites linked in the side bar!
Until next time,
Rimpy Toor