Hey everyone!
Another week of my practicum has gone by and it's time again for me to post on my wonderful blog!
This book is one that I picked up on a whim one day and finished it on the very same day. It was an amazingly quick read and I'm so happy that I decided to pick it up!
Let's get into the review!
---
Goodreads Rating: 3.94/5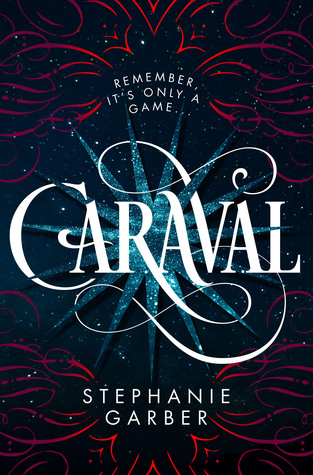 Pages: 407 Pages
Publisher: Flatiron Books
Published: January 31st, 2017
Genre: Fantasy and YA
Plot:
Scarlett Dragna has never left the tiny island where she and her sister, Tella, live with their powerful, and cruel, father. Now Scarlett's father has arranged a marriage for her, and Scarlett thinks her dreams of seeing Caraval—the faraway, once-a-year performance where the audience participates in the show—are over.
But this year, Scarlett's long-dreamt-of invitation finally arrives. With the help of a mysterious sailor, Tella whisks Scarlett away to the show. Only, as soon as they arrive, Tella is kidnapped by Caraval's mastermind organizer, Legend. It turns out that this season's Caraval revolves around Tella, and whoever finds her first is the winner.
Scarlett has been told that everything that happens during Caraval is only an elaborate performance. Nevertheless she becomes enmeshed in a game of love, heartbreak, and magic. And whether Caraval is real or not, Scarlett must find Tella before the five nights of the game are over or a dangerous domino effect of consequences will be set off, and her beloved sister will disappear forever.
---
⭐ ⭐ ⭐ ⭐
---
This novel is one that I have heard incredibly things about, and I'm glad I finally managed to get to it, especially with the next novel coming soon!
I had such a fun time reading this novel, it was super quick and very hard to put down. I managed to finish most of the novel whilst sitting at Starbucks!
Characters
I thought the characters in this novel were so interesting and hard to wrap my head completely around. There was so much mystery surrounding everything going on during this novel, including our characters!
I loved seeing the variety in the characters we got to meet, it was a great mix of people!
The protagonist of this novel has moments in which she was a bit frustrating to follow, but due to the things that she went through throughout the novel, I didn't fault her too much for it. It was understandable.
I found the character of Legend to be such an interesting concept! It was such a fun adventure trying to guess all the clues and figure out who Legend really was.
Writing
The writing of this novel was incredibly enticing. I was so enthralled how Stephanie Garber was able to use her words to keep the reader interested. The twists and turns of the writing style also complimented the plot of the story really well, which is another reason I found the novel so enticing.
Also, the way that Stephanie was able to create the setting for the Caraval was amazing because it really made me (the reader) feel as though I were there!
Lastly, I really loved the way the novel was split into sections according to the day of the Caraval. It made the book feel as though it was going a lot faster and was another reason for how quick I was able to finish the novel.
Plot
The plot of this novel was one like I'd never seen before. It was such a fun experience to be a part of, and I found it very interesting how things ended up in the end.
I found myself comparing this novel to The Greatest Showman quite a bit when I first started it. The magical Caraval, the elusive Legend, and the wild cast of characters we met throughout the novel were very reminiscent of that movie!
All in all, I loved this novel. There were moments in which the characters got on my nerves a bit, which is why I can't give it a full 5/5, but other than that, this novel was a wonderful read.
I recommend everyone (who hasn't already) pick up this novel! I can't wait for the next one!
---
Alright everyone, that concludes my review for Caraval by Stephanie Garber.
Thank you so much for reading and don't forget to follow my blog as well as my other social media sites.
Until next time,
Rimpy Toor