Hello everyone!
Today I am bringing to you all a book review for a book that I have heard about endlessly from almost everyone. This series is one that I think everyone in the book community has read and loved and recently has come up again due to another book being released in this series!
Alright, let's get into my review for Shatter Me by Tahereh Mafi!
---
Goodreads Rating: 4/5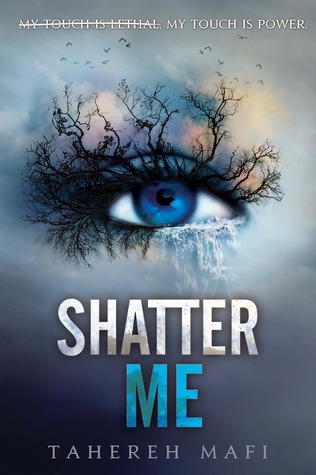 Pages: 338 Pages
Publisher: Harper
Published: November 15th, 2011
Genre: YA, Sci-Fi, and Romance
Plot:
Juliette hasn't touched anyone in exactly 264 days.
The last time she did, it was an accident, but The Reestablishment locked her up for murder. No one knows why Juliette's touch is fatal. As long as she doesn't hurt anyone else, no one really cares. The world is too busy crumbling to pieces to pay attention to a 17-year-old girl. Diseases are destroying the population, food is hard to find, birds don't fly anymore, and the clouds are the wrong color.
The Reestablishment said their way was the only way to fix things, so they threw Juliette in a cell. Now so many people are dead that the survivors are whispering war – and The Reestablishment has changed its mind. Maybe Juliette is more than a tortured soul stuffed into a poisonous body. Maybe she's exactly what they need right now.
Juliette has to make a choice: Be a weapon. Or be a warrior.
---
⭐ ⭐ ⭐
---
Ok, so this novel is one I have a lot of thoughts about, so I'm going to try to keep my writing composed and to the point!
I, overall, enjoyed reading this novel. I thought it was interesting and I found myself reading it super quickly, which is always a great thing!
Characters
The characters in this novel were, ok? I didn't hate them but I didn't find myself having any sort of attachment to them either. I actually found myself loving side characters a bit more than the main characters, which was odd.
I have to say that Juliette's was an interesting POV to follow, with the writing style correlating with the mindset Juliette was in at the time, I found myself very intrigued with her and was curious to learn more about her past and why she is the way that she is. Like I said above, I didn't hate her, but she isn't my favourite character in the world either.
The boys in this novel were ok, just ok.
Writing
The writing in this novel was a bit different from what I've seen before, especially with the crossed out sentences and repetition. Including those two styles was a very cool thing for Tahereh Mafi to do and I think it added a lot of depth into the writing.
Additionally, I thought that the flow of the writing of this novel went really well, it was easy to read and I found myself flying through the novel.
Plot
This is where my opinion gets a bit negative.
I had a couple problems with the plot of this novel that I wanted to discuss, which are the main reason I wasn't the biggest fan of this novel as a whole. I flew through it, but my end feelings weren't as positive as I would have liked, or as I expected.
The first thing I found issue with was the romance in this novel. The romance felt very insta-love for me, and I know a lot of you who have read this novel and know the background behind the romance and all the details would disagree with me, but I still don't buy the automatic love that occurred. Additionally, I thought there was a weird obsessive aspect to the romance in this novel that just made me cringe. Plus, lots of weird steamy scenes that didn't seem necessary or seem to fit into what was going on at the time in the novel.
Next, the coincidences. There is one aspect of this novel that I found to be such an annoying coincidence. I don't want to say exactly what it is, but if you've read this novel it's not very hard to figure out what I'm talking about. I feel like there were parts in this novel that took shortcuts to get the plot where it needed to be, and some of these shortcuts were a bit unbelieveable and too good to be true.
Lastly, the world. The world of this novel sounded so cool, but we didn't get to learn about it. This is one thing that I'm not super upset about because I figure that we might learn more about the world in the next novel (fingers crossed), but it was a bit frustrating to hear about this dystopian world but not get to understand any more than the tiny bits and pieces that we were given. I just want more!
Those were my top problems with this novel. They're not humongous issues, and that's why this novel still got 3/5 from me, but they're things that I'm hoping will slowly fade as we move on to the next books. There are obviously things that cannot be taken back, but I'm hoping that as we move on to book two of this series, the plot doesn't take weird turns and have weird coincidences anymore. Plus I want more world building. PLEASE.
All in all, I enjoyed this novel. It was a quick read and I found myself intrigued with some of the plot and characters. I am planning on continuing with this series because I have heard that it gets better as the books go on, so I'm holding on to the hope that actually happens.
---
That concludes my review for Shatter Me by Tahereh Mafi!
Thank you so much for reading and don't forget to follow my blog as well as my other social media sites!
Until next time,
Rimpy Toor