Hello everyone!
I am back again with another book review! This past month hasn't been the best for my reading, but what I have read have been some pretty awesome books!
I received an ARC of The Lies They Tell by Gillian French from the wonderful people at Harper Collins but that has not influenced my review in any way!
Alright, let's jump right into the review!
---
Release Date: May 1st, 2018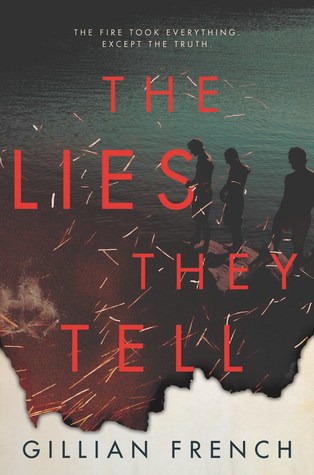 Pages: 304 Pages
Publisher: HarperTeen
Genre: YA, Mystery, and Thriller
Plot:
Everyone in Tenney's Harbor, Maine, has heard of the Garrison tragedy. A mysterious fire. A family of five reduced to one. For people like Pearl Haskins—whose dad was the caretaker of the Garrison property when the house went up in flames—the whispers about that night are more than upsetting. They hurt. With her disgraced father now trying to find steady work in between booze benders, Pearl is stuck waiting tables at the town's country club where the rich townspeople come in the summer to flaunt their money and gossip about one another.
This year, a group of privileged boys has made a point of sitting in Pearl's section—throwing careless insults her way while also attempting to flirt. Though she's repulsed by everything they stand for, she's drawn to the quiet leader of the pack, Tristan—the last surviving Garrison. He wasn't home the night a blaze took his entire family, and the sadness coming off him in waves is hard to ignore. Befriending the summer boys might irk her to her core, but inside their fold of elite parties and reckless whims could be answers to what happened the night of the fire. And that's just what she finds.
Hidden beneath the glittering façade of wealth and luxury, Pearl discovers a dark and twisted web of lies and betrayals that, once untangled, will leave no life in Tenney's Harbor unchanged. That is…if it doesn't take Pearl's first
---
⭐ ⭐ ⭐ ⭐
---
This novel was one that I had read about on Goodreads and was instantly intrigued. I don't read thrillers/mystery's very often, but when I do, I want it to be one that makes me think and has some amazing tension. This one did just that!
Characters
The characters in this novel were so incredibly diverse. I loved seeing how the two (wealthy and middle class) groups clashed and how that influenced what information we received in relation to the mystery of this novel.
The main character, Pearl, was a pretty interesting character to follow. I thought that she was incredibly well written and it was amazing to see her do something without receiving her entire thought process upfront so we had the opportunity to figure it out before it was revealed to us. Additionally, I really enjoyed how we got to see Pearl communicate with the other characters, whether they were friendly or not.
Writing
The writing of this novel was pretty well done. I found that it always had me on my toes and wanting to know what happened next. Additionally, I loved the anticipation that accompanied anything that happened in this novel. The chapters were cut off at the perfect moments and the atmosphere of the novel was top tier!
Plot
I thoroughly enjoyed the premise of this novel. I do definitely recommend reading this novel in the summer because it is set in that season, plus it's short enough for you to read it at the beach and have the perfect experience!
The mystery aspect of this novel always had me thinking, we were continuously being told more information and getting more evidence so it was interesting to see how those facts effected my thought process. I really enjoyed the process of finding out who did the deed, but unfortunately at the end I was disappointed with who actually ended up doing it. I felt as though this novel could have had one more twist near the end that would have just pushed it over the top and made it incredible, unfortunately that didn't happen for me.
That was the only reason I couldn't give this novel 4/5, but that doesn't mean you shouldn't read it. It is SO worth reading. As I said, the entire process of finding all the information was insanely addictive and fun and made you never want to put the book down. Also, just because I wasn't happy with the ending doesn't mean you wouldn't be, it  is entirely based on personal preference.
All in all, this novel was a super fun read and I'm so glad that I decided to pick it up when I did! I recommend this novel to anyone who loves a good summer mystery/thriller, and honestly anyone else, you'll all love it!
---
Alright, that concludes my review for The Lies They Tell by Gillian French.
Thank you so much for reading and don't forget to follow my blog as well as my other social media sites linked in the side bar!
Until next time,
Rimpy Toor