Hey everyone!
Welcome back to my blog, I hope you're all ready for a new month of reading!
My April TBR is going to be a bit more ambitious due to me having a lot more free time this month!
Alright, let's just get right into it!
---
The Last Magician by Lisa Maxwell
Goodreads Rating: 4.07/5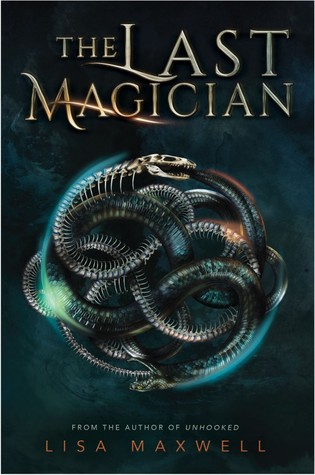 Pages: 500 Pages
Published: July 18th, 2017
Publisher: Simon Pulse
Genre: Fantasy, Sci-Fi, and YA
Series: The Last Magician #1
Plot:
In modern-day New York, magic is all but extinct. The remaining few who have an affinity for magic—the Mageus—live in the shadows, hiding who they are. Any Mageus who enters Manhattan becomes trapped by the Brink, a dark energy barrier that confines them to the island. Crossing it means losing their power—and often their lives.
Esta is a talented thief, and she's been raised to steal magical artifacts from the sinister Order that created the Brink. With her innate ability to manipulate time, Esta can pilfer from the past, collecting these artifacts before the Order even realizes she's there. And all of Esta's training has been for one final job: traveling back to 1902 to steal an ancient book containing the secrets of the Order—and the Brink—before the Magician can destroy it and doom the Mageus to a hopeless future.
But Old New York is a dangerous world ruled by ruthless gangs and secret societies, a world where the very air crackles with magic. Nothing is as it seems, including the Magician himself. And for Esta to save her future, she may have to betray everyone in the past.
---
The King of Attolia by Megan Whalen Turner
Goodreads Rating: 4.36/5

Pages: 387 Pages
Published: January 24th, 2006
Publisher: Greenwillow Books
Genre: Fantasy and YA
Series: The Queen's Thief #3
Plot: (Don't read if you haven't read Book #1 The Thief)
By scheming and theft, the Thief of Eddis has become King of Attolia. Eugenides wanted the queen, not the crown, but he finds himself trapped in a web of his own making.
Then he drags a naive young guard into the center of the political maelstrom. Poor Costis knows he is the victim of the king's caprice, but his contempt for Eugenides slowly turns to grudging respect. Though struggling against his fate, the newly crowned king is much more than he appears. Soon the corrupt Attolian court will learn that its subtle and dangerous intrigue is no match for Eugenides.
---
I Have Lost My Way by Gayle Forman

Pages: 368 Pages
Release Date: April 1st, 2018
Publisher: Penguin Teen
Genre: YA and Contemporary
Plot:
Around the time that Freya loses her voice while recording her debut album, Harun is making plans to run away from everyone he has ever loved, and Nathaniel is arriving in New York City with a backpack, a desperate plan, and nothing left to lose. When a fateful accident draws these three strangers together, their secrets start to unravel as they begin to understand that the way out of their own loss might just lie in help­ing the others out of theirs.
---
Morning Star by Pierce Brown
Goodreads Rating: 4.5/5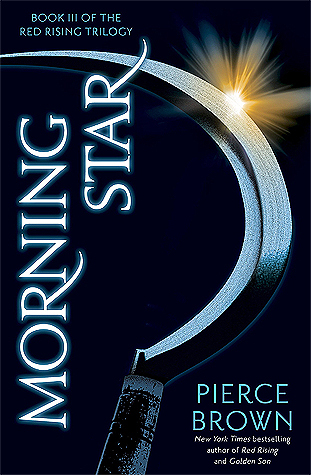 Pages: 524 Pages
Published: February 9th, 2016
Publisher: Del Rey
Genre: Sci-Fi and Fantasy
Series: Red Rising #3
Plot:
Darrow would have lived in peace, but his enemies brought him war. The Gold overlords demanded his obedience, hanged his wife, and enslaved his people. But Darrow is determined to fight back. Risking everything to transform himself and breach Gold society, Darrow has battled to survive the cutthroat rivalries that breed Society's mightiest warriors, climbed the ranks, and waited patiently to unleash the revolution that will tear the hierarchy apart from within.
Finally, the time has come.
But devotion to honor and hunger for vengeance run deep on both sides. Darrow and his comrades-in-arms face powerful enemies without scruple or mercy. Among them are some Darrow once considered friends. To win, Darrow will need to inspire those shackled in darkness to break their chains, unmake the world their cruel masters have built, and claim a destiny too long denied—and too glorious to surrender.
---
Shatter Me by Tahereh Mafi
Goodreads Rating: 4/5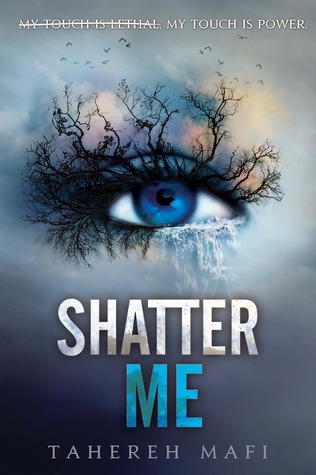 Pages: 338 Pages
Published: October 2nd, 2012
Publisher: HarperCollins
Genre: YA, Sci-Fi, and Fantasy
Series: Shatter Me #1
Plot:
Juliette hasn't touched anyone in exactly 264 days.
The last time she did, it was an accident, but The Reestablishment locked her up for murder. No one knows why Juliette's touch is fatal. As long as she doesn't hurt anyone else, no one really cares. The world is too busy crumbling to pieces to pay attention to a 17-year-old girl. Diseases are destroying the population, food is hard to find, birds don't fly anymore, and the clouds are the wrong color.
The Reestablishment said their way was the only way to fix things, so they threw Juliette in a cell. Now so many people are dead that the survivors are whispering war – and The Reestablishment has changed its mind. Maybe Juliette is more than a tortured soul stuffed into a poisonous body. Maybe she's exactly what they need right now.
Juliette has to make a choice: Be a weapon. Or be a warrior.
---
The City of Brass by S. A. Chakraborty
Goodreads Rating: 4.23/5

Pages: 533 Pages
Published: November 14th, 2017
Publisher: Harper Voyager
Genre: Historical and YA
Plot:
Nahri has never believed in magic. Certainly, she has power; on the streets of 18th century Cairo, she's a con woman of unsurpassed talent. But she knows better than anyone that the trade she uses to get by—palm readings, zars, healings—are all tricks, sleights of hand, learned skills; a means to the delightful end of swindling Ottoman nobles.
But when Nahri accidentally summons an equally sly, darkly mysterious djinn warrior to her side during one of her cons, she's forced to accept that the magical world she thought only existed in childhood stories is real. For the warrior tells her a new tale: across hot, windswept sands teeming with creatures of fire, and rivers where the mythical marid sleep; past ruins of once-magnificent human metropolises, and mountains where the circling hawks are not what they seem, lies Daevabad, the legendary city of brass?a city to which Nahri is irrevocably bound.
In that city, behind gilded brass walls laced with enchantments, behind the six gates of the six djinn tribes, old resentments are simmering. And when Nahri decides to enter this world, she learns that true power is fierce and brutal. That magic cannot shield her from the dangerous web of court politics. That even the cleverest of schemes can have deadly consequences.
After all, there is a reason they say be careful what you wish for
---
Gemina by Jay Kristoff and Amie Kaufman
Goodreads Rating: 4.56/5

Pages: 659 Pages
Published: October 18th, 2016
Publisher: Alfred A. Knopf Books for Young Readers
Genre: Sci-Fi and YA
Series: The Illuminae Files #2
Plot:
Moving to a space station at the edge of the galaxy was always going to be the death of Hanna's social life. Nobody said it might actually get her killed.
The sci-fi saga that began with the breakout bestseller Illuminaecontinues on board the Jump Station Heimdall, where two new characters will confront the next wave of the BeiTech assault.
Hanna is the station captain's pampered daughter; Nik the reluctant member of a notorious crime family. But while the pair are struggling with the realities of life aboard the galaxy's most boring space station, little do they know that Kady Grant and the Hypatia are headed right toward Heimdall, carrying news of the Kerenza invasion.
When an elite BeiTech strike team invades the station, Hanna and Nik are thrown together to defend their home. But alien predators are picking off the station residents one by one, and a malfunction in the station's wormhole means the space-time continuum might be ripped in two before dinner. Soon Hanna and Nik aren't just fighting for their own survival; the fate of everyone on the Hypatia—and possibly the known universe—is in their hands.
But relax. They've totally got this. They hope.
---
Down Among the Sticks and Bones by Seanan McGuire
Goodreads Rating: 4.23/5

Pages: 189 Pages
Published: June 13th, 2017
Publisher: Tor
Genre: Fantasy and YA
Series: Wayward Children #2
Plot:
Twin sisters Jack and Jill were seventeen when they found their way home and were packed off to Eleanor West's Home for Wayward Children.
This is the story of what happened first…
Jacqueline was her mother's perfect daughter—polite and quiet, always dressed as a princess. If her mother was sometimes a little strict, it's because crafting the perfect daughter takes discipline.
Jillian was her father's perfect daughter—adventurous, thrill-seeking, and a bit of a tom-boy. He really would have preferred a son, but you work with what you've got.
They were five when they learned that grown-ups can't be trusted.
They were twelve when they walked down the impossible staircase and discovered that the pretense of love can never be enough to prepare you a life filled with magic in a land filled with mad scientists and death and choices.

---
Isle of Blood and Stone by Makiia Lucier
Release Date: April 10, 2018

Pages: 400 Pages
Publisher: Houghton Mifflin Harcourt
Genre: Fantasy and YA
Series: Isle of Blood and Stone #1
Plot:
Ulises asked, "How can I look at these maps, see this riddle, and do nothing? They are my brothers."
Elias reached across the table and flicked aside two shells with a fingertip. The map curled into itself. "It's bound to be a goose chase. You know that?"
"Or a treasure hunt," Ulises countered, "and you've always been good at those."
Nineteen-year-old Elias is a royal explorer, a skilled mapmaker, and the new king of del Mar's oldest friend. Soon he will embark on the adventure of a lifetime, an expedition past the Strait of Cain and into uncharted waters. Nothing stands in his way…until a long-ago tragedy creeps back into the light, threatening all he holds dear.
The people of St. John del Mar have never recovered from the loss of their boy princes, kidnapped eighteen years ago, both presumed dead. But when two maps surface, each bearing the same hidden riddle, troubling questions arise. What really happened to the young heirs? And why do the maps appear to be drawn by Lord Antoni, Elias's father, who vanished on that same fateful day? With the king's beautiful cousin by his side-whether he wants her there or not-Elias will race to solve the riddle of the princes. He will have to use his wits and guard his back. Because some truths are better left buried…and an unknown enemy stalks his every turn.
---
Brightly Burning by Alexa Donne
Release Date: May 1st, 2018

Pages: 400 Pages
Publisher: HMH Books for Young Readers
Genre: YA and Sci-Fi

Plot:
Seventeen-year-old Stella Ainsley wants just one thing: to go somewhere—anywhere—else. Her home is a floundering spaceship that offers few prospects, having been orbiting an ice-encased Earth for two hundred years. When a private ship hires her as a governess, Stella jumps at the chance. The captain of the Rochester, nineteen-year-old Hugo Fairfax, is notorious throughout the fleet for being a moody recluse and a drunk. But with Stella he's kind.
But the Rochester harbours secrets: Stella is certain someone is trying to kill Hugo, and the more she discovers, the more questions she has about his role in a conspiracy threatening the fleet.
---
The Lies They Tell by Gillian French
Release Date: May 1st, 2018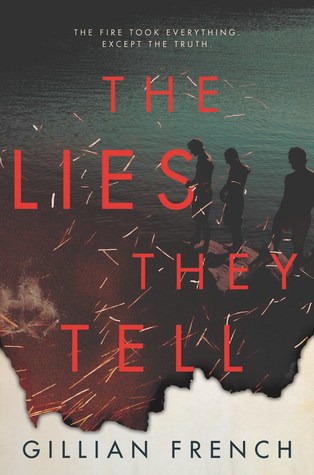 Pages: 304 Pages
Publisher: HarperTeen
Genre: YA, Mystery, and Contemporary

Plot:
Everyone in Tenney's Harbor, Maine, has heard of the Garrison tragedy. A mysterious fire. A family of five reduced to one. For people like Pearl Haskins—whose dad was the caretaker of the Garrison property when the house went up in flames—the whispers about that night are more than upsetting. They hurt. With her disgraced father now trying to find steady work in between booze benders, Pearl is stuck waiting tables at the town's country club where the rich townspeople come in the summer to flaunt their money and gossip about one another.
This year, a group of privileged boys has made a point of sitting in Pearl's section—throwing careless insults her way while also attempting to flirt. Though she's repulsed by everything they stand for, she's drawn to the quiet leader of the pack, Tristan—the last surviving Garrison. He wasn't home the night a blaze took his entire family, and the sadness coming off him in waves is hard to ignore. Befriending the summer boys might irk her to her core, but inside their fold of elite parties and reckless whims could be answers to what happened the night of the fire. And that's just what she finds.
Hidden beneath the glittering façade of wealth and luxury, Pearl discovers a dark and twisted web of lies and betrayals that, once untangled, will leave no life in Tenney's Harbor unchanged. That is…if it doesn't take Pearl's first.
---
Furyborn by Claire Legrand
Release Date: May 22nd, 2018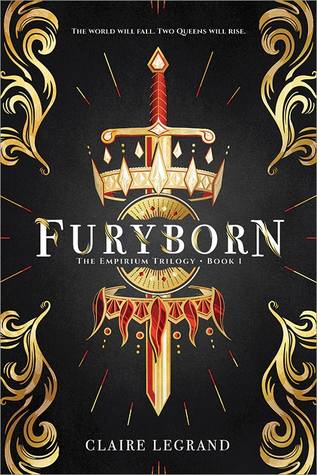 Pages: 512 Pages
Publisher: Sourcebooks Fire
Genre: Fantasy and YA
Series: Empirium #1
Plot:
When assassins ambush her best friend, the crown prince, Rielle Dardenne risks everything to save him, exposing her ability to perform all seven kinds of elemental magic. The only people who should possess this extraordinary power are a pair of prophesied queens: a queen of light and salvation and a queen of blood and destruction. To prove she is the Sun Queen, Rielle must endure seven trials to test her magic. If she fails, she will be executed…unless the trials kill her first.
A thousand years later, the legend of Queen Rielle is a mere fairy tale to bounty hunter Eliana Ferracora. When the Undying Empire conquered her kingdom, she embraced violence to keep her family alive. Now, she believes herself untouchable–until her mother vanishes without a trace, along with countless other women in their city. To find her, Eliana joins a rebel captain on a dangerous mission and discovers that the evil at the heart of the empire is more terrible than she ever imagined.
As Rielle and Eliana fight in a cosmic war that spans millennia, their stories intersect, and the shocking connections between them ultimately determine the fate of their world–and of each other.
---
Alright everyone! That concludes my very ambitious TBR for April! I'm hoping that with all the extra time I get this month that I will be able to read a lot more!
Thank you all so much for reading my blog as well as following! Be sure to also follow my other social media sites linked in the side bar!
Until next time,
Rimpy Toor