Hello everyone!
Welcome back to my blog for yet another book review. This one is going to be another one from my reading during Wonder Week!
This novel is one that came out last year and I never really anticipated reading until I received the ARC for the second novel Defy the Worlds and figured I might as well join in on this world!
Let's get right into it shall we?
---
Goodreads Rating: 4.03/5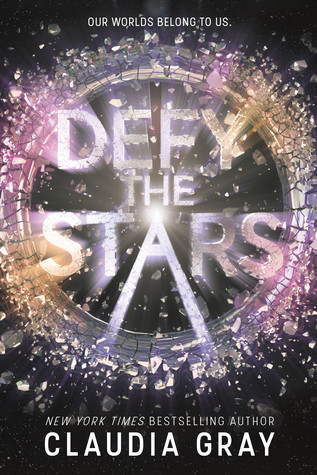 Pages: 503 Pages
Published: April 4th, 2017
Publisher: Little, Brown Books for Young Readers
Genre: Sci-Fi, Fantasy, and YA
Plot:
She's a soldier — Noemi Vidal is willing to risk anything to protect her planet, Genesis, including her own life. To their enemies on Earth, she's a rebel.
He's a machine — Abandoned in space for years, utterly alone, Abel's advanced programming has begun to evolve. He wants only to protect his creator, and to be free. To the people of Genesis, he's an abomination.
Noemi and Abel are enemies in an interstellar war, forced by chance to work together as they embark on a daring journey through the stars. Their efforts would end the fighting for good, but they're not without sacrifice. The stakes are even higher than either of them first realized, and the more time they spend together, the more they're forced to question everything they'd been taught was true.
---
⭐ ⭐
---
2.5/5
This novel was one that I didn't fall in love with right away.
I'm not personally the biggest Sci-Fi lover. Of course there are some novels (Red Rising) that I've read and loved endlessly that are Sci-Fi, but I don't automatically pick up a book because it is Sci-Fi, if that makes sense.
Reading this novel at first felt like sort of a chore. I didn't find the plot to be totally that entertaining and interesting and I found myself bored with the characters and their storylines.
This changed for me about halfway through reading this novel.
I would say that to get into this novel it is very important to push yourself to at least 200-250 pages before you decide to give up. That's where most of the interesting plot points take place, and that's where you feel drawn in the most.
At least that's what happened for me.
Characters
The characters in this novel were good. I wouldn't say they're close to being my favourite characters that I've read about, but they did have some interesting points to them that I couldn't hate.
I'd have to say that throughout this novel Abel definitely grew on me a lot. It was interesting to see his growth throughout the novel and to see changes that I didn't expect, but desperately wanted.
As for Noemi. Firstly I'd like to state that throughout this novel I thought of her name as Naomi, not Noemi. I don't think that it was on purpose that this occurred, but once I realized, there was no way for me to change what I was calling her. Sorry.
Noemi was an ok protagonist. I understand that she was made to be a strong female lead that I was proud of and really loved, but she kind of fell flat for me. I wish there was more to her and I wish that she could have shown more character aspects that I related to a strong female lead.
Other than that, she was ok. Not horrible, but not entirely great.
Writing
The writing in this novel is something that I do need to commend, for the second half of the novel.
The first half went by so slow for me, so I didn't really love the writing style there, but as things started to pick up in terms of plot, the writing became more and more interesting and gripping for me.
I'm hoping that this writing style transfers to the sequel to this novel because I really enjoyed it and it made the pace of the novel move a lot quicker for me.
Plot
I would be lying if I said that I've read a novel that was identical or eerily similar to this one, because I haven't. This novel was a new premise for me, but it didn't feel like it.
I knew I hadn't read anything like this before, but that didn't make me love it more.
I am indifferent about this plot of this novel. I enjoyed myself, but didn't find the plot life changing or surprising.
A lot of the plot points that showed twists and turns didn't surprise me a whole lot, I kind of just went with it and found it to be expected, which was unfortunate.
All in all, this novel was ok. I enjoyed myself during the second half of the novel, but I honestly wouldn't pick this one up again.
I'm really hoping that the second novel in this series is a whole lot better than the first!
---
Alright, that concludes my review for Defy the Stars by Claudia Gray!
Thank you so much for reading and don't forget to follow my blog as well as my other social media sites linked in the side bar.
Until next time,
Rimpy Toor