Hey everyone! 
Today's post is going to be a review for A Girl Like That by Tanaz Bhathena!
I'd like to thank Raincoast Books for providing me with an ARC for this novel! I really appreciate it!
Let's jump into the review!
---
Goodreads Rating: 4.16/5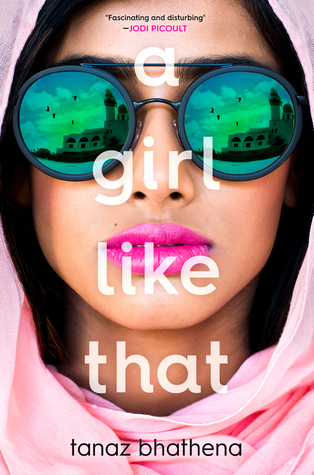 Pages: 384 Pages
Published: February 27th, 2018
Publisher: Farrar Straus Giroux Books for Young Readers
Genre: Young Adult and Contemporary
Plot: 
Sixteen-year-old Zarin Wadia is many things: a bright and vivacious student, an orphan, a risk taker. She's also the kind of girl that parents warn their kids to stay away from: a troublemaker whose many romances are the subject of endless gossip at school.  You don't want to get involved with a girl like that, they say. So how is it that eighteen-year-old Porus Dumasia has only ever had eyes for her? And how did Zarin and Porus end up dead in a car together, crashed on the side of a highway in Jeddah, Saudi Arabia? When the religious police arrive on the scene, everything everyone thought they knew about Zarin is questioned. And as her story is pieced together, told through multiple perspectives, it becomes clear that she was far more than just a girl like that. 
---
⭐ ⭐
---
This novel was one that I was incredibly interested in, due to the cultural background of the characters being similar to mine. It's not often that I'm met with a novel in which I have similarities in terms of culture, which is why this one intrigued me so much!
This novel was a slow burn. If you know the types of novels I tend to read, you know that they're mostly fantasy's with a lot of action going on, they're usually never slow burns, which is why I had a hard time reading this novel. 
This novel was told from the POV of several different characters and it was centered around this one girl named Zarin, and the things that may have led to her death, as well as her life experiences before her death. 
It was definitely interesting to see Zarin's life living with so many rules surrounding her as a woman. It was frustrating at times to hear the things that she was told she could and couldn't do. Zarin was a character who I would definitely call a strong independent woman. With all the things that occurred throughout her life, she was strongly herself and it was amazing to see how she gave literally no fucks about what anyone thought. 
This novel wasn't my favourite due to how slow moving it was. It was very hard to remain interested, despite my love for Zarin. I thought there were a lot of parts in the novel that were interesting to read, but I didn't feel like they were important for the plot of the story. 
This novel has an incredible premise and I think it's so very important to read to understand the life of women living in environments where they are so controlled. If you enjoy reading novels that have slow burns and that are just enjoyable character driven novels then I definitely recommend this novel. Just because it wasn't the novel for me doesn't mean that this won't be one of your favourite novels. 
---
That concludes my review for A Girl Like That. I hope you all enjoyed!
Thank you so much for reading and don't forget to follow my blog as well as my other social media sites. 
Until next time,
Rimpy Toor