Hey guys! Welcome back to my blog for another book review!
Tiffany Haddish has been on my radar since I watched Girls Trip when it first came out. Since then I have been interested in seeing more of her. Tiffany is a hilarious comedian and I have found that anything she does, be it a movie, show or talk show, I always find entertaining.
Recently I watched an interview Tiffany did on The Daily Show with Trevor Noah, and it went through a couple of anecdotes that Tiffany shared in her book, and they were all hilarious stories so I felt compelled to read the novel ASAP.
So let's get into the review!
---
⭐ ⭐ ⭐ ⭐
---
Goodreads Rating: 4.08/5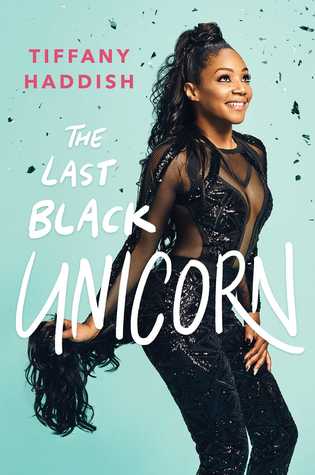 Pages: 288 Pages
Published: December 5th, 2017
Publisher: Gallery Books
Genre: Nonfiction, Autobiography, Humor
Plot:
From stand-up comedian, actress, and breakout star of Girls Trip, Tiffany Haddish, comes The Last Black Unicorn, a sidesplitting, hysterical, edgy, and unflinching collection of (extremely) personal essays, as fearless as the author herself.
Growing up in one of the poorest neighbourhoods of South Central Los Angeles, Tiffany learned to survive by making people laugh. If she could do that, then her classmates would let her copy their homework, the other foster kids she lived with wouldn't beat her up, and she might even get a boyfriend. Or at least she could make enough money—as the paid school mascot and in-demand Bar Mitzvah hype woman—to get her hair and nails done, so then she might get a boyfriend.
None of that worked (and she's still single), but it allowed Tiffany to imagine a place for herself where she could do something she loved for a living: comedy.
Tiffany can't avoid being funny—it's just who she is, whether she's plotting shocking, jaw-dropping revenge on an ex-boyfriend or learning how to handle her newfound fame despite still having a broke person's mind-set. Finally poised to become a household name, she recounts with heart and humor how she came from nothing and nowhere to achieve her dreams by owning, sharing, and using her pain to heal others.
By turns hilarious, filthy, and brutally honest, The Last Black Unicorn shows the world who Tiffany Haddish really is—humble, grateful, down-to-earth, and funny as hell. And now, she's ready to inspire others through the power of laughter.

---
My Thoughts
I found this autobiography to be such a fun and interesting read. Going into it I knew I was going to love all the stories that Haddish brought up, and that was exactly what happened. Haddish has such a funny way of bringing up serious, and sometimes sad, life experiences, it makes you really understand how she was able to persevere through these experiences and work her way to where she currently is.
Haddish is very honest and true to herself as a person, and she never tries to change who she is to fit any persona that might further her career if she did so, which I find to be incredibly inspiring.
This book was something that I definitely flew through, there were a lot of anecdotes thrown in that were both hilarious as well as sad, but they all helped me understand who Tiffany is as a person and what makes her unique.
The only reason I didn't give this novel 5/5 was due to the fact that sometimes the writing seemed to be written in a way that felt like it wasn't flowing as well as I hoped and that limited my enjoyment at times, but other than that this book was a hit and left me wanting more when I finished it off.
I definitely recommend reading this novel if you're looking for a funny and quick read. It will have you laughing to yourself and definitely make you love Tiffany Haddish even more than you did before.
---
Thank you so much for reading, and don't forget to follow my blog.
Until next time,
Rimpy Toor