Hello everyone!
This month is by far my favorite of all the months, this might have something to do with the fact that my birthday takes place in the second week of the month… but also HALLOWEEN!
This month I am excited to read all the spooky books I don't usually have a chance to read throughout the year.
I'm going to jump right into my TBR because I am very excited to be able to read these wonderful books this month.
Also, for all of you wondering where I've been the past couple months, I apologize, but I have been in the worlds worst reading/writing slump and haven't been in the mood to blog. I'm so sorry for being awol but I am slowly working my way back into writing this blog and enjoying it.
---
It by Stephen King
Goodreads Rating: 4.19/5
Pages: 1116 pages
Published: October 1st, 1987
Publisher: New English Library
Genre: Horror
Plot:
To the children, the town was their whole world. To the adults, knowing better, Derry, Maine was just their home town: familiar, well-ordered for the most part. A good place to live.
It was the children who saw – and felt – what made Derry so horribly different. In the storm drains, in the sewers, IT lurked, taking on the shape of every nightmare, each one's deepest dread. Sometimes IT reached up, seizing, tearing, killing . . .
The adults, knowing better, knew nothing.
Time passed and the children grew up, moved away. The horror of IT was deep-buried, wrapped in forgetfulness. Until they were called back, once more to confront IT as IT stirred and coiled in the sullen depths of their memories, reaching up again to make their past nightmares a terrible present reality.
My Thoughts:
This is a novel I started right before my reading slump began, and I have a feeling that it might be the reason for my reading slump, but I am so ready to give this novel another chance for this month.
I think this novel would be a great lead up to halloween. Plus I still haven't seen the movie yet and I would like to finish this novel so I can finally watch the movie I've heard everyone rave about.
---
Necronomicon by H.P. Lovecraft
Goodreads Rating: 4.29/5
Pages: 878 pages
Published: January 1st, 2008
Publisher: Gollancz
Genre: Horror
Plot:
Originally written for the pulp magazines of the 1920s and 1930s, H. P. Lovecraft's astonishing tales blend elements of horror, science fiction, and cosmology that are as powerful today as they were when first published. This tome presents original versions of many of his most harrowing stories, including the complete Cthulhu Mythos cycle, in order of publication.
My Thoughts:
I've had this book since last year, and it's something I always love to read during the Halloween season.
This book is composed by several spooky and interesting short stories/poems, and it's something that is super fun to read when it's dark and you're surrounded by blankets and candles.
---
Stalking Jack the Ripper by Kerri Maniscalco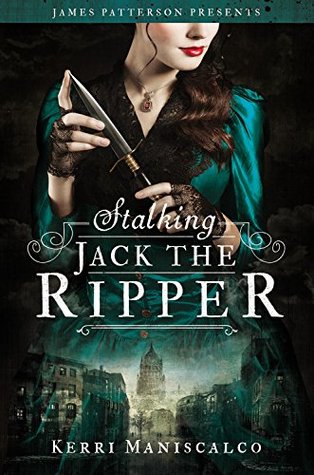 Goodreads Rating: 3.98/5
Pages: 326 pages
Published: September 20th, 2016
Publisher: Jimmy Patterson
Genre: Historical Fiction
Plot:
Seventeen-year-old Audrey Rose Wadsworth was born a lord's daughter, with a life of wealth and privilege stretched out before her. But between the social teas and silk dress fittings, she leads a forbidden secret life.
Against her stern father's wishes and society's expectations, Audrey often slips away to her uncle's laboratory to study the gruesome practice of forensic medicine. When her work on a string of savagely killed corpses drags Audrey into the investigation of a serial murderer, her search for answers brings her close to her own sheltered world.
Thoughts:
I've started this novel but I found it to be a bit dry and not as interesting as I was hoping. I'm not going to give up because I have heard so many good things about this novel, so I will give it another go during this month.
Maybe having it be October, and being surrounded by all the fun Halloween decorations will allow me to enjoy the novel even more.
---
That is about all I want to give myself to read this month. I don't want to get overwhelmed by all the novels I put onto my TBR.
I hope you guys enjoyed my TBR, be sure to leave a comment down below with your TBR so I can see what everyone else is planning on reading this month!
Thank you so much for reading, don't forget to follow my blog as well as my other social media sites linked in the side bar.
Until next time,
Rimpy Toor
Blogger & Reviewer at Rimpy's Reads
Blog | Twitter | Goodreads


e: rimpyreads@gmail.com


a: PO Box 99900 ZY 307 014
RPO Newton
Surrey BC, Canada
V3W 1A7