Hi guys!
Today I have a review to bring you, that I'm quite excited to write. Recently I've been in a bit of a book slump and I've had a hard time finding time to sit down and read instead of watch Netflix 24/7. This unfortunately hasn't changed much, but I did have a great time reading this book and finished it in two sittings – which I think is pretty good for where I'm at right now.
This is a great novel for when you're in a reading slump because it moves so fast, so I'm very glad I decided to pick this one up.
---
Goodreads Rating: 4.0/5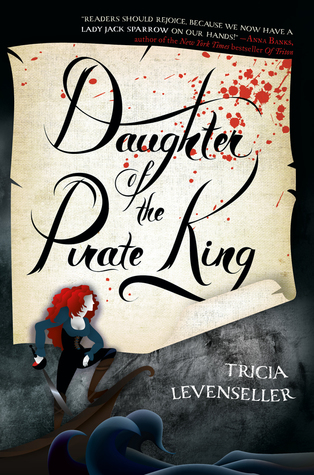 Pages: 320 pages
Publication Date: February 28th, 2017
Publisher: Feiwel & Friends
Genre: Young Adult, Fantasy
PURCHASE HERE!
Plot:
Sent on a mission to retrieve an ancient hidden map—the key to a legendary treasure trove—seventeen-year-old pirate captain Alosa deliberately allows herself to be captured by her enemies, giving her the perfect opportunity to search their ship.
More than a match for the ruthless pirate crew, Alosa has only one thing standing between her and the map: her captor, the unexpectedly clever and unfairly attractive first mate, Riden. But not to worry, for Alosa has a few tricks up her sleeve, and no lone pirate can stop the Daughter of the Pirate King. 
---
⭐ ⭐ ⭐
---
My Thoughts
Firstly I'd like to say that I did enjoy this novel, and I am looking forward to the next one in the series. Just because it didn't get the highest rating doesn't mean I didn't find it to be a good book, or regret buying it, because that's not the case.
I will talk about the things that made me give this book a lower rating, but first I'd like to talk about why I loved this book.
This book was so fast paced it was crazy. I sat down to read this before bed and was surprised with how fast I was able to get halfway through the book (I think it took me an hour – max).
This was great for me because it made it possible for me to read this book before I got too distracted and wanted to stop – which was something that'd been happening a lot recently.
Additionally, I really liked the strong, independant woman aspect of this book. It was nice to see this girl who doesn't dare bow down to anyone, and doesn't care about what anyone says about it. I also loved seeing her bring along her trusted pirates (who are all women – great!).
Now I need to talk about how I didn't love this novel.
There were a couple things about this novel that I found to be a little annoying.
First, the instalove. I didn't understand how Riden fell in love with Alosa so fast. I understand that she's a sexy pirate and fights and is a captain and everything a man loves, but how does he fall in love with her so fast?
Secondly, I didn't love how everything in this book was so obvious. I wish that Levenseller was more discreet with her twists and didn't make it so obvious. Sometimes a little mystery makes the book fun, and I didn't really have that in this novel because I was anticipating a lot of what would happen.
Lastly, I didn't love the way that it was so easy for Alosa to do things and escape. You'll understand this more later when you read the novel, but everything that Alosa does just seems too easy and it doesn't really seem realistic to me. I guess that could be because of her rigorous training… I don't know.
All in all I did enjoy this book and I will probably be picking up the next novel to see how it goes, but it did also have a couple of irritating flaws as well.
If you're looking for a strong female led novel, with pirates and some romance, then I do think this novel is the book for you!
---
That concludes my review for Daughter of the Pirate King by Tricia Levenseller.
Thank you for reading and don't forget to follow my blog as well as my other social media sites linked in the side bar.
Until next time,
Rimpy Toor
Blogger & Reviewer at Rimpy's Reads
Blog | Twitter | Goodreads


e: rimpyreads@gmail.com


a: PO Box 99900 ZY 307 014
RPO Newton
Surrey BC, Canada
V3W 1A7