Hey guys! Today I'm bringing to you a review for The Gentleman's Guide to Vice and Virtue!
This book has been super hyped up, and originally I wanted to listen to the audiobook but I couldn't find it at my library. I then brought the print book, but I kind of wish I bought the audiobook instead.
Unfortunately I didn't really enjoy this book, it wasn't what I expected.
---
Goodreads Rating: 4.29/5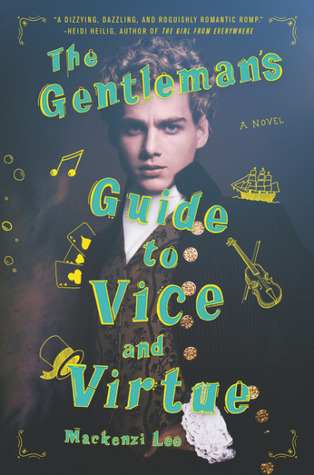 Pages: 513 pages
Publication Date: June 27th. 2017
Publisher: Katherine Tegen Books
Genre: LGBTQ, Young Adult, Historical
Purchase Here!
Plot:
Henry "Monty" Montague was born and bred to be a gentleman, but he was never one to be tamed. The finest boarding schools in England and the constant disapproval of his father haven't been able to curb any of his roguish passions—not for gambling halls, late nights spent with a bottle of spirits, or waking up in the arms of women or men.
But as Monty embarks on his Grand Tour of Europe, his quest for a life filled with pleasure and vice is in danger of coming to an end. Not only does his father expect him to take over the family's estate upon his return, but Monty is also nursing an impossible crush on his best friend and traveling companion, Percy.
Still it isn't in Monty's nature to give up. Even with his younger sister, Felicity, in tow, he vows to make this yearlong escapade one last hedonistic hurrah and flirt with Percy from Paris to Rome. But when one of Monty's reckless decisions turns their trip abroad into a harrowing manhunt that spans across Europe, it calls into question everything he knows, including his relationship with the boy he adores.
---
⭐ ⭐ ⭐
---
My Thoughts
Firstly, I would like to mention that people told me this book was funny but I didn't really see how it was. The hype for this book was out of control, and all of the things I heard reminded me of My Lady Jane. This got me very excited because I really loved that novel, but unfortunately this one was not very similar to My lady Jane.
I have no problems with Mackenzi Lee's writing, I thought it was good and the writing did keep me very intrigued into seeing what would happen next. The flow was also very nicely done and I didn't really feel like putting the book down, aside from my being in a reading slump at the moment.
I do have to say my reading slump might be part of the reason I didn't enjoy this book as much as I would've hoped.
Additionally, I did really love Percy as well as Felicity. I thought they were really nicely written characters and I really liked the way they did things and what they stood for. Felicity was a very strong female character and seeing that in a book set so far back was interesting. Percy on the other hand was very laid back but you can also see he was a very emotional character which I enjoyed.
I didn't really enjoy Monty as a character. I think that's mainly because of the way he was written, and he definitely did redeem himself towards the end of the book but for the most part I wasn't the biggest fan.
There were moments in this novel where I did feel really bad for Monty, He did have a really hard life and I understand that. I do think that Lee wrote him how she wrote him because all of the things that happen to him have shaped the way he acts. This doesn't make me like his character bit more as well as understand where he's coming from. 
Lastly, I'd like to mention the adventure aspect of the book. I found it to be very interesting but at the same time I wasn't super engrossed with what was happening. I didn't care to see the where the adventure would lead them next, and I didn't really care how it would end.
All in all, I wouldn't say I hated this book but I didn't love it as much as I wish I did. Again, this might be due to my reading slump and I am definitely going to give the audiobook a listen when I can.
---
That concludes my review for The Gentleman's Guide to Vice and Virtue by Mackenzi Lee.
Thank you so much for reading, don't forget to follow my blog as well as my other social media sites linked in the sidebar.
Until next time,
Rimpy Toor
Blogger & Reviewer at Rimpy's Reads
Blog | Twitter | Goodreads


e: rimpyreads@gmail.com


a: PO Box 99900 ZY 307 014
RPO Newton
Surrey BC, Canada
V3W 1A7