Hey guys!
This review is something that I wished I could have written right after I read the novel, but I finished it last night at 3am and I was exhausted. Not to mention I had to wake up this morning at 6am for school…
I'd heard a lot of things about this novel and all the people raving about how amazing this novel were right.
This novel was something that I was so glad I finally read and I'm sure everyone else who reads it will agree with me.
---
Goodreads Rating: 4.63/5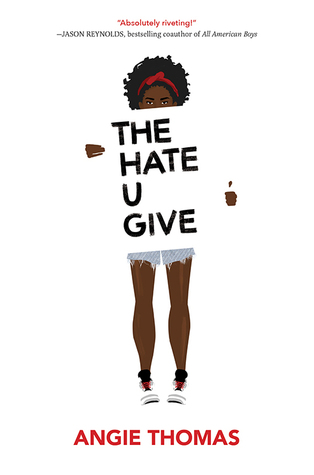 Pages: 444 pages
Publication Date: February 28th, 2017
Publisher: Balzer & Bray/Harperteen
Genre: Young Adult, Contemporary
PURCHASE HERE!
Plot:
Sixteen-year-old Starr Carter moves between two worlds: the poor neighborhood where she lives and the fancy suburban prep school she attends. The uneasy balance between these worlds is shattered when Starr witnesses the fatal shooting of her childhood best friend Khalil at the hands of a police officer. Khalil was unarmed.
Soon afterward, his death is a national headline. Some are calling him a thug, maybe even a drug dealer and a gangbanger. Protesters are taking to the streets in Khalil's name. Some cops and the local drug lord try to intimidate Starr and her family. What everyone wants to know is: what really went down that night? And the only person alive who can answer that is Starr.
But what Starr does or does not say could upend her community. It could also endanger her life.
---
⭐ ⭐ ⭐ ⭐ ⭐
---
I loved this book.
I was kind of (KIND OF) skeptic about how good it would be, what with it being a very hyped up book everywhere, but it lived up to the things people said about it.
I finished this book in about 3.5 hours and loved every minute of it.
This novel covered a topic that is very relevant in the world right now, and it did it in such an honest and no bullshit type of way.
I in no way know what any of the characters in this novel feel like. I have been fortunate enough to not have to endure the things these characters have had to endure, but Angie Thomas wrote this novel in such a way that it made me understand to an extent what Starr and all the people in her community were going through.
This novel really opens your eyes to the violence that goes on around the world – that is not mentioned on the news enough. Thomas gives us insight into the world of the black community and shows us what really goes on and what the news won't tell us.
I must admit that this novel had me emotional for it's entirety. I cried for Starr, I cried for Khalil, and I cried for all of the characters in this novel that were going things they shouldn't have to go through.
Thomas' writing in this novel was real. She used slang and spoke as if she was speaking directly to me. I also enjoyed the dialogue immensely.
Despite this being an incredibly serious read, there were several parts in it which made me crack up. These characters were hilarious. Their conversations made me feel like I was kind of part of their group, and it felt so real.
I would also like to mention that Starr's dad was honestly my favourite character. He was so strong and caring and protective. When reading scenes of him with his children and his wife it felt like I was intruding in a private moment. It really warmed my heart to see a character written so beautifully.
I obviously loved Starr. To see her go through what she did and come out the other side a stronger woman because of it was very amazing and inspiring to see. She never let her fears get the best of her when it came down to standing up for what she believes in and the people she loves and I thought that was a beautiful character trait of hers.
All in all I cannot explain how much I loved this novel. It was everything I didn't know I needed. I urge everyone to pick this novel up and give it a read – you definitely will not regret it.
---
That concludes my review for The Hate U Give by Angie Thomas.
Thank you so much for reading and don't forget to follow my blog as well as my other social media accounts linked in the side bar.
Until next time,
Rimpy Toor
Blogger & Reviewer at Rimpy's Reads
Blog | Twitter | Goodreads


e: rimpyreads@gmail.com


a: PO Box 99900 ZY 307 014
RPO Newton
Surrey BC, Canada
V3W 1A7